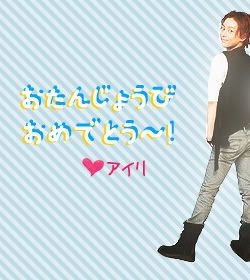 Happy 22nd birthday Taisuke!
For smiling, for singing, for dancing,
for being able to crack jokes,
for doing crazy things on TV,
for taking care of everyone around you,
for always showing your true side,
thank you.
Having mandatory Japanese 2 years ago wasn't exactly helpful,
but even with this language barrier you still make me smile.

I'm looking forward to the day that KisuMai will perform
(and not backdance!)
at Tokyo Dome!
hanggang sa marating niyo yun, susuportahan kita at ang Kis-My-Ft2.

大好きだよ!